Clay Pigeons (1998)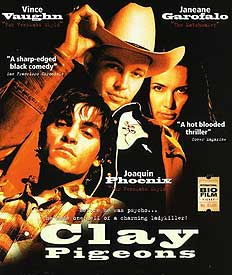 Clay (as in the title) is a young man in a small town who witnesses his friend kill himself because of the ongoing affair that Clay was having with the man's wife. Feeling guilty, Clay now resists the widow when she presses him to continue with their sexual affairs. Clay befriends a troubling serial killer.
Director: David Dobkin
Writer: Matthew L. Healy (as Matt Healy)
Stars: Joaquin Phoenix, Vince Vaughn, Janeane Garofalo
David Dobkin, director of The Refreshments' videos "Banditos" and "Down Together," wanted a Roger Clyne & The Peacemakers song on the soundtrack, but movie producers went for major label artists, so David put "Wanted" into bar scene with Garafalo & Vaughn.